How Air Freight Services Can Help Your Business Grow
Whether you are in retail locally or export and import product internationally, you probably rely heavily on a reliable transportation service to deliver the freight on time. In business, a small delay could cause a significant loss, which is why effective transportation can actually help cut down costs. Unfortunately, not everything can be planned for, and delays in shipment are common. Many business operate with perishable products and need to minimize the delivery time. You may also need a shipment to be delivered through express delivery in emergencies. In such cases, Air freight delivery is probably your best transport option. It's fast and suitable for perishable goods that need to be delivered internationally. While, handling such freight could be difficult, many business trust air freight forwarders from Sydney to help deal with the administrative part of air transport. These services work to ensure that your goods are delivered on time and to the correct address.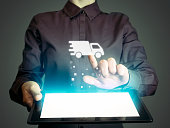 While there are contracts and checks in place to ensure that your package arrives safely, there are many cases were packages have gotten mixed up and your shipment may have got lost. This could waste a lot of your time and money by trying to locate the lost freight. An air freight forwarder company will ensure that such cases are avoided by making sure that the freight is forwarded to the correct transportation service. Unlike direct transportation, where the package is delivered through a single service, air freight usually has to go through several stops before it reaches its location. There's the initial transfer of the goods to the airport and then transporting the goods by air as well as the final delivery from the destination airport to the final destination. All these processes involve custom checks, documentation and transfer between different transport services which is quite a difficult task.
An air freight forwarder will ensure that this entire process goes smoothly by handling the paperwork as well as ensuring that your product are delivered through the right transportation companies. The actually help businesses save on transportation costs by grouping your freight with others going the same direction, thereby cutting on the overall transportation costs. They handle the customs and other documentation that is required. Because a freight forwarder has extensive experience in the transportation industry, they can help arrange for your gods to be delivered through the cheapest transportation route. The best things about such services is that they provide a level of security, and may also help you save on insurance premiums. Whether you are a new to air transportation, or you are an established business looking for an effective transport solution, you should consider getting a freight forwarder to effectively handle your freight transportation. If you need help for the customs clearance, just visit https://www.bollinger.com.au/